Two Important Steps: Apply and Register for CUWiP
STEP 1: Apply
The application is available on the APS CUWiP website from September 3, 2018 through October 12, 2018.
APS collects applications for all the CUWiP sites. Apply to the site most convenient to your expected location on January 18, 2019. As a rough guide, the map below divides the U.S. into districts for the various sites. Students in Canada cannot receive financial support from APS to attend sites in the US. They are encouraged to apply to the Canadian CUWiP at the University of Ottawa.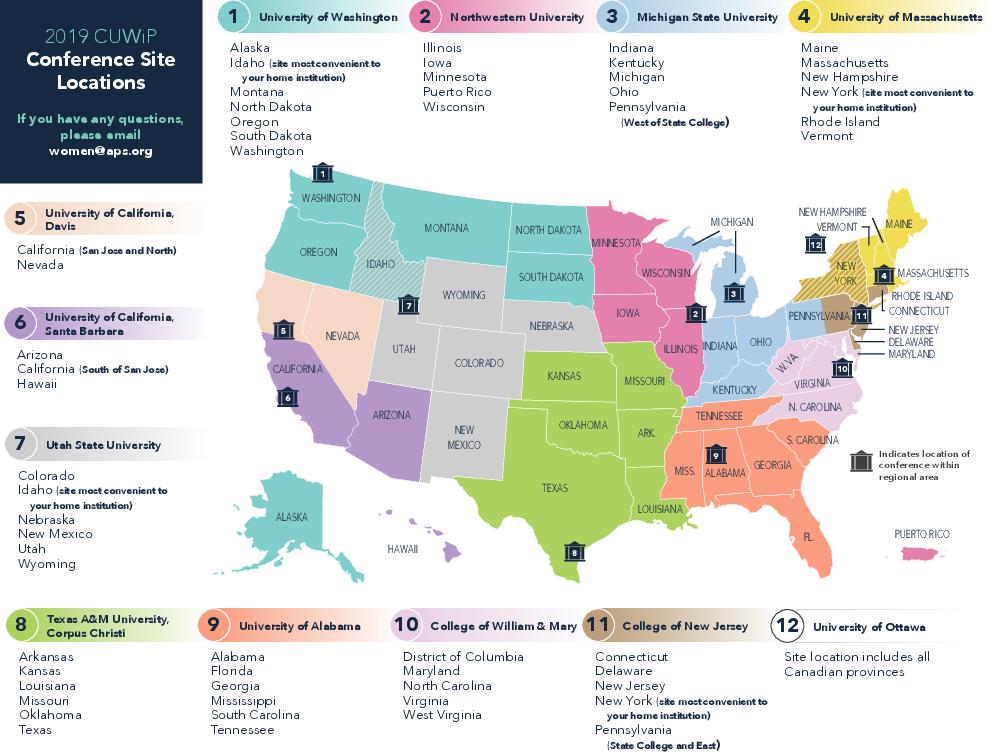 APS will direct your application to the site you apply to for evaluation. If one location fills up, some applications may be redirected to another site. All applications will be reviewed in late October, and you will learn the results in early November.
STEP 2: Register

After you have been accepted to the conference, you must register through the APS. As part of registration you will answer questions needed for planning purposes. You will also pay a $45 registration fee. Often your college will reimburse your expenses, including this fee. You can also have the fee waived if it is a financial hardship.
Students Not Registered with APS
Even if you missed the application or registration deadline, you can still attend the APS CUWiP at UC Davis. If you're interested, please answer the questions in this Word or Latex template for students and email it to cuwip@physics.ucdavis.edu with an explanation of your situation. We will ask you to pay $45, which will cover part of your conference expenses. (Most students pay the $45 to APS when they register, and APS passes the money on to us.) Your home institution may be able to reimburse you for this expense. If not, and if it will be a hardship for you to pay it, let us know. We don't want financial considerations to prevent anyone from attending.
Non-Student Attendees
We'd appreciate it if you can answer the questions in this Word or Latex template for non-students and email it to cuwip@physics.ucdavis.edu. This will help us in our planning for the conference.